Coca-Cola FEMSA is part of a group of 380 companies from 11 different industries that comprise the 2021 Bloomberg Gender-Equality Index (GEI).
Mexico City, January 27th, 2020.- For the third consecutive year, Coca-Cola FEMSA has been recognized by the Bloomberg Gender-Equality Index (GEI) – comprised by a total of 380 companies based in 42 countries and 11 different industries –  as one of the companies that has robust practices and policies related to gender.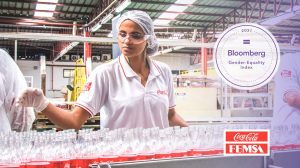 The Bloomberg GEI assesses the financial performance of public companies committed to supporting gender equality through its corporate policies, women representation, and data transparency, based on five pillars: leadership and female talent, equal pay & pay parity between genders, inclusive culture, sexual harassment policies, and pro-woman brand.
With its "people first" mentality and consistent with KOF DNA, Coca-Cola FEMSA creates an environment where individuals can feel included and valued for their knowledge, behaviors, competencies, and results, so they can aspire for more opportunities for development and recognition based on their talent.
To achieve this, it has developed an Inclusion and Diversity strategy, based on three pillars: training and install inclusive leadership skills in all of our leaders; create an open and flexible work environment, and develop a diverse talent pipeline.
"Inclusion and diversity is a key element of Coca-Cola FEMSA's organizational culture. We are convinced that a diverse company better understands the needs of consumers and the communities where it operates. With that in mind, our vision is to create an organizational environment where each individual feels included, has opportunities for development, and is recognized for their talent and value creation only factoring in their knowledge, behaviors, and results." Karina Awad, Human Resources Director at Coca-Cola FEMSA.
Coca-Cola FEMSA develops its leadership pipeline by fostering diverse human capital, attracting talent to contribute from different perspectives to solve business and market challenges. This approach creates a work environment that respects the differences between people and strengthens the commitment of its employees.

By disclosing metrics related to gender equality using the Bloomberg GEI framework, the companies included provided a comprehensive view of their investment in gender equality in the workplace and in the communities where they operate.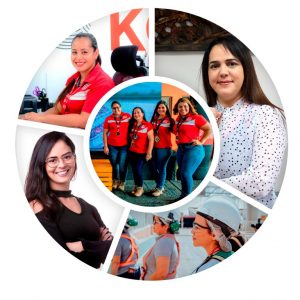 Coca-Cola FEMSA was included in this year's index by achieving a score above the global threshold established by Bloomberg, reflecting a high level of disclosure and performance in the five pillars of its methodology, which demonstrates the leadership and commitment of the company with gender equality as a key component to refresh the world the most efficient and sustainable way.