Within the commemoration of International Women's Day, here at Coca-Cola FEMSA we would like to express our recognition to the talent and work of thousands of women who contribute to the company's growth and achievements every day.

Our commitment is to promote a working environment in which all people feel included, have opportunities for their development, and are recognized for their talent and the way they create value under equal conditions.
Through equality and diversity we find a way to better understand the needs of our consumers, customers, and the communities we have the privilege of serving, and by being inclusive, we enrich our talent base.
Our Inclusion and Diversity strategy is based on three fundamental pillars:
Promote and strengthen inclusive leadership at all levels.
Generate an egalitarian, open, and flexible work environment.
Develop a pipeline of diverse talent.
"At Coca-Cola FEMSA, we acknowledge women empowerment as a cornerstone for the value creation of our organization. We guarantee equal opportunities, conditions and the proper environment for women to develop to their full potential. We are convinced that gender equality is a must for sustainable, accelerated growth which also translates into opportunities to build a future with equality" Karina Awad, Human Resources Director at Coca-Cola FEMSA.

"Coca-Cola FEMSA's commitment is to strengthen and place ourselves among the best companies in the world for our adoption of gender-related policies, that complement our environmental, social, and governance (ESG) policies. Women's talent reaches our communities, where we have actively participated in programs that encourage women entrepreneurship. We will seek to maintain and increase these efforts to continue strengthening women's leadership" María del Carmen Alanís, Director of Government Affairs at Coca-Cola FEMSA.
---
8M 2021 – Change up the pace: women at the table.
---
We continue to promote and share actions to achieve gender equality through daily actions, such as:
Basing our talent attraction and development strategy on equal opportunities
We have an ethical line where women can report situations that are not in line with our values and, therefore, affect the integrity of each person who collaborates with the company.
Building an egalitarian work culture where each person is valued for their talent and increasingly building spaces and policies focused on the empowerment of women.
In our communities, we have programs that seek to promote women entrepreneurship.
Strengthening ties with international organizations and join efforts with other companies that work on a common agenda to work together in favor of women's equality and empowerment.
In the last three years, we have been recognized as one of the companies included in Bloomberg's Gender Equality Index (GEI) for our practices and policies that promote of gender equality. Our goal is to identify opportunity areas to strengthen our commitment with the women at KOF and in our communities.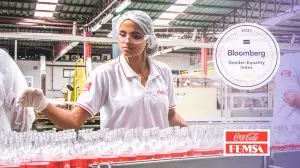 We recognize that we have great challenges ahead of us, and we know that we can only face them with a culture based on equality, where collaboration and talent add up in equal proportions.