Embracing a holistic approach to sustainable development.
We strategically, efficiently, and responsibly address KOF operation's impacts across our value chain from sourcing to manufacturing, to distribution to community and sustainable development.
Sustainable Sourcing
We promote the growth and development of our suppliers, while improving their social position and reducing the environmental impact of our value chain.
Our suppliers are key partners in our business' success. To contribute to their economic, social, and environmental development and to the sustainability of our industry in the countries in which we operate, we offer a comprehensive Sustainable Sourcing Program.
 US$37.7 million total savings due to environmental efficiencies
Sustainable Development for suppliers
We facilitate sustainable development across our value chain by ensuring that applicable social, environmental, and ethical guidelines permeate our suppliers' processes, positively impacting their people, the environment, and their communities. We continuously design action and work plans to develop these aspects of their operations.
US$16.7 million invested in environmental projects

Sustainable sourcing program
In order to guarantee quality, integrity and excellence, while respecting the different customs and cultures of the people with whom we interact, our sustainable sourcing program is founded on a series of guiding principles.
1) THE COCA-COLA COMPANY SUPPLIER GUIDING PRINCIPLES
Established by The Coca-Cola Company for specific strategic input categories, these principles are aligned with their Human Rights Policy, as well as their protection of the environment and labor rights. These suppliers are evaluated and authorized by The Coca-Cola Company to supply their value chain.
2) FEMSA SUPPLIER GUIDING PRINCIPLES
Established by FEMSA for the rest of the input categories, these principles focus on four areas: Labor Rights, Environment, Community, and Ethics and Values. 100% of our suppliers adhere to these principles.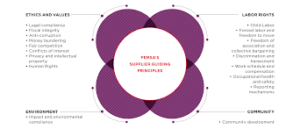 3) SUSTAINABLE AGRICULTURE GUIDING PRINCIPLES
Established by The Coca-Cola Company for those locations in which we obtain agricultural inputs, these principles protect the labor rights of people who work the land and make a contribution to building a sustainable supply chain from its very origin.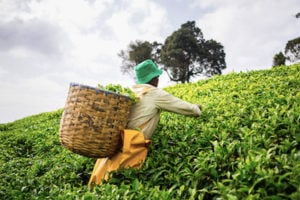 These principles reflect the standards that guide our daily activities
to ensure that we have responsible work centers that protect human rights and,  at minimum,
adhere to all applicable labor and environmental laws.
---
You may also want to read:
#WorldWithoutWaste The Coca-Cola Global Campaign for the planet.
Our capital in the integrated strategy of Coca-Cola FEMSA.
Coca-Cola Supplier Guiding Principles