Más de 100,000 empleados generando valor no sólo en áreas operativas, también en las digitales.
Con la finalidad de promover la vinculación y crecer el número de colaboradores activos en los diversos canales digitales de la Compañía, se reunieron los equipos de LinkedIn Norte y Latinoamérica con el equipo de Atracción de Talento #KOF.
Durante la reunión se comentó que las ventanas que ofrece LinkedIN permiten a grandes Compañías como Coca-Cola FEMSA compartir las experiencias de sus Líderes. Y ser un referente para otras compañías y usuarios en búsqueda de empleo. José Ramón Martínez, Director de Asuntos Corporativos habló de los Centros de Excelencia, que optimizan los procesos de manufactura, distribución, logística y prácticas comerciales.
También se comentó el impacto global que Coca-Cola FEMSA tiene en áreas de Sostenibilidad y en sus 3 ejes principales: Nuestra Gente, Nuestra Comunidad y Nuestro Planeta.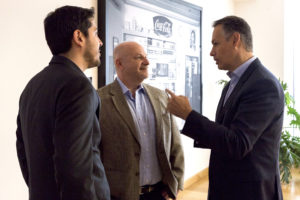 Estamos acercando a las nuevas generaciones a la historia de éxito de una Compañía mexicana con operaciones en Latinoamérica y en Asia.

Justyna Kroplewska – Talent Attraction Manager and Juan Carlos Cortés – Corporate Affairs Manager, Coca-Cola FEMSA. Oscar Harada – Sr. Manager, Relationship Management North America and Rodrigo Divitiis – Relationship Management Manager North America, LinkedIn.

"Hoy en día es un desafío atraer, formar y retener el talento de las personas. Es por eso que, con ayuda de herramientas digitales, capitalizamos oportunidades de desarrollo y aseguramos el capital humano" Justyna Kroplewska, Gerente de Atracción de Talento.
La visita de LinkedIN al Corporativo Coca-Cola FEMSA no tiene precedentes. Generó un vínculo sólido offline para acercar oportunidades online. Y trazar, colaborando, el futuro de las herramientas de capital humano.
El mayor porcentaje de los usuarios en LinkedIN pertenecen a grandes Compañías como Coca-Cola FEMSA, que actualmente tiene más de 24,000 colaboradores activos. La esencia de cualquier Compañía es su talento; por ello, relacionarse es mucho más que intercambiar en una plataforma de empleo. LinkedIN ofrece una rica interacción de conocimiento, soluciones de ventas y experiencia laboral.
---
Haz comunidad: LinkedIN – Coca-Cola FEMSA
---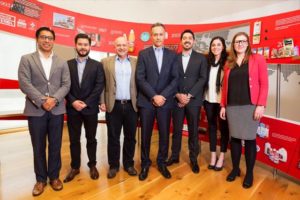 ---