La primera generación de líderes participantes del KOF Accelerated Leaders Program comparten sus experiencias.
Manuel Amaro, actualmente es Gerente de Finanzas en Coca-Cola FEMSA Panamá. Al ser identificado como líder dentro de la Compañía, formó parte del selecto grupo de Directores y Gerentes del primer KOF Accelerated Leaders Program.
¿Describe brevemente tu experiencia en el KOF Accelerated Leaders Program?
Fue una gran experiencia: un espacio para la introspección, la potencialización de habilidades de liderazgo y el fortalecimiento de relaciones estratégicas en un ambiente multicultural, con socios de aprendizaje en todas las unidades de negocio.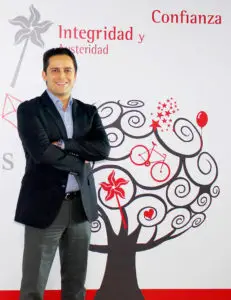 ¿Si pudieras describir el programa, en una palabra, cuál sería?
Inspirador.
¿Cómo iniciaste tu trayectoria en Coca-Cola FEMSA? 
Mi carrera en la empresa comenzó en el área de Tesorería Corporativa, como Jefe de Capex y Cash Management.
¿Cuáles han sido los retos y los aprendizajes del programa?
Identificar áreas de oportunidad en la autogestión y encausarlas en pro de desarrollarme como un mejor líder; cómo conformar equipos de trabajo eficientes, motivados y de alto rendimiento; cómo ser un cliente efectivo y cómo satisfacer a los nuestros en entornos cambiantes y diversos.
¿Cómo ha contribuido el plan del programa a tu desarrollo personal y profesional?
Me ha ayudado a profundizar aspectos clave que debo continuar trabajando para forjarme como un mejor líder, así como en establecer estrategias y planes que me ayudarán –a mí y a mi equipo– a entregar mejores resultados.
¡Gracias al Accelerated Leaders Program he tenido la oportunidad de fortalecer mis habilidades de liderazgo y de apalancar con ello el desarrollo de mi equipo de trabajo. ¡Gracias Coca-Cola FEMSA!
---
---
También te puede interesar:
Diversity Roundtable; Coca-Cola FEMSA con Google y las empresas más incluyentes de México.
Coca-Cola FEMSA presente en el Decision Makers Challenge de Empresariales UP.
 #KOFLeaders: Management and Leadership skills to strengthen roles in a dynamic organization.