Coca-Cola FEMSA, the largest Coca-Cola franchise bottler in the world by sales volume, released today its Integrated Report 2020.
Entitled "Refreshing Anytime, Anywhere," Coca-Cola FEMSA presents the Company's 2020 business and sustainability highlights.
Mexico City, March 19, 2021
Coca-Cola FEMSA, S.A.B. de C.V. (BMV: KOFUBL, NYSE: KOF) ("Coca-Cola FEMSA", "KOF" or the "Company")
The Company releases its integrated report 2020. This report underscores how its strategic growth and industry leadership are driven by its purpose to refresh the world anytime, anywhere, along with its commitment to always find the most efficient and sustainable way to put consumers' drink of choice in their hands whenever and wherever they want it.
"In a challenging year, we came out stronger than before. Beyond operating with excellence, while taking care of our employees and communities, we continued to develop a leading portfolio, maintained unmatched market execution, and ensured our cash flow liquidity. Additionally, we focused on accelerating our digital transformation and sustainable development to enable our business success and generate value in collaboration with our stakeholders," said John Santa Maria Otazua, CEO of Coca-Cola FEMSA.
Aligned with its strategic framework, the Company focused on four priorities:

1) Build a portfolio for every occasion
2) Drive an overall digital transformation
3) Ensure business sustainability
4) Foster a collaborative culture, achieving significant milestones during 2020.
For the year, the Company's total sales volume reached 3,284 million unit cases and 17,398 million transactions, with total revenues of US$ 9,231 million and operating income of US$ 1,269 million, while successfully navigating the challenging environment caused by the COVID-19 pandemic.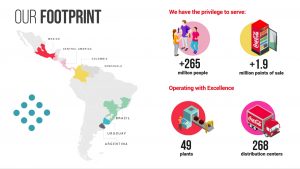 Digital trade capabilites
The Company substantially advanced its digital priorities, accelerating the deployment of its commercial analytics platform, business-to-business (B2B) and business-to-consumer (B2C) platforms, and digital trade capabilities.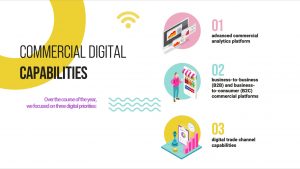 Relevant milestones
Additionally, the Company reached key 2020 sustainability goals and relevant milestones:
Reaching an industry benchmark global water use ratio of 1.49 liters of water per liter of beverage produced;
Integrating an average of 29% recycled resin in its PET packaging, surpassing its goal of 25%;
Sourcing an impressive 80% of its manufacturing facilities' electricity global needs from clean energy sources, reaching 96% in Mexico for December 2020;
Registering 2.17 million hours of volunteer work, exceeding its goal of 1 million;
Donating 3.8 million liters of beverages and delivering 1.9 million medical supplies to vulnerable populations, health professionals, and front-line workers amidst the COVID-19 pandemic;
Becoming the first Mexican Company to achieve official approval of the Science Based Targets initiative (SBTi) for its GHG emissions reduction targets;
Issuing its inaugural green bond for US$705 million, currently the largest for a Latin American corporation and the first for the Coca-Cola System;
Securing its inclusion in the S&P Global Sustainability Yearbook 2021 and, for the third consecutive year, its membership in the Bloomberg Gender-Equality Index.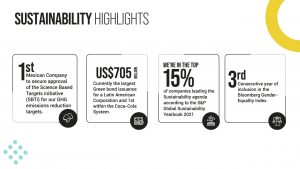 ---
Coca-Cola FEMSA's Integrated Report 2020, "Refreshing Anytime, Anywhere," was developed following the guidelines of the International Integrated Reporting Council (IIRC) and in accordance with the Global Reporting Initiative (GRI) Standards, as well as material indicators of the Sustainability Accounting Standard's Board (SASB) for the non-alcoholic beverage industry. Furthermore, this report elaborates on the Company's annual Communication on Progress (COP) to the United Nations Global Compact, included by FEMSA in its 2020 report.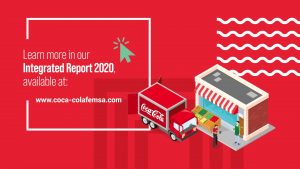 Importantly, during the second quarter 2021, Coca-Cola FEMSA will publish its inaugural Green Bond Report. This report will provide an update of the use of proceeds as of December 31, 2020, of the Company's successful green bond issued on September 2020, including its look-back period.
The complete 2020 integrated report is available on www.coca-colafemsa.com
Coca-Cola FEMSA, S.A.B. de C.V. is the largest Coca-Cola franchise bottler in the world by sales volume. The Company produces and distributes trademark beverages of The Coca-Cola Company, offering a wide portfolio of 129 brands to a population of more than 265 million. With over 85 thousand employees, the Company markets and sells approximately 3.3 billion unit cases through close to 2 million points of sale a year. Operating 49 manufacturing plants and 268 distribution centers, Coca-Cola FEMSA is committed to generating economic, social, and environmental value for all of its stakeholders across the value chain. The Company is a member of the Dow Jones Sustainability Emerging Markets Index, Dow Jones Sustainability MILA Pacific Alliance Index, FTSE4Good Emerging Index, and the S&P/BMV Total Mexico ESG Index, among others. Its operations encompass franchise territories in Mexico, Brazil, Guatemala, Colombia, and Argentina, and, nationwide, in Costa Rica, Nicaragua, Panama, Uruguay, and in Venezuela through its investment in KOF Venezuela.